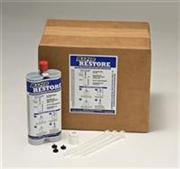 We use the best available concrete repair products for all our repair needs. We are a recognized installer of Rapid Restore by Rapid Concrete Solutions, Inc. Rapid Restore is quick and easy to apply. It is a simple, fast-setting, long lasting repair material that helps us restore your floor to traffic in as little as 15 minutes.
Traditional repair products involve down time, require specialized equipment, and can result in wasted repair material. It's easy to avoid repair problems until they become too big to ignore.
With Rapid Restore you can easily maintain smooth floors and a safe work environment. Timely repairs help you reduce repair expenses, down-time, and wear and tear on expensive moving equipment. Our experienced professionals use Rapid Restore to get you back on your floor and working.


No Down Time – Sets in 15 minutes
No Saw Cutting
Self Mixing – No Pot Mixing Required
Uses Sand as an Aggregate
Ultra Low Viscosity
True Feather Edge Repairs
Low Odor
Can Be Cut, Drilled, Tapped, Coated
Sets Up in Temperatures as Low as -20° FB