Concrete Polishing / how it works
Concrete polishing is a process of diamond grinding the concrete surface then applying a premium hardener, densifier and sealer to change the molecular structure of the concrete wear zone. The hardener system reacts with the concrete to produce insoluble calcium silicate hydrate within the concrete pores. The increased surface hardness reduces dusting and simplifies maintenance producing a cleaner, healthier environment. Once the concrete polishing system has been installed there are no peeling, chipping, and flaking issues.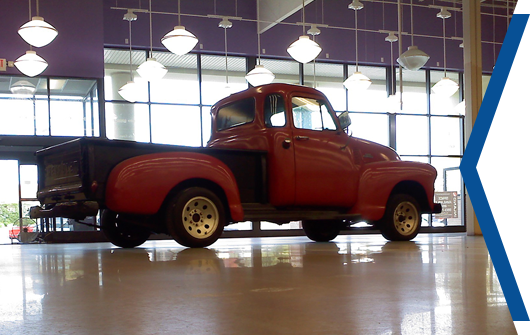 Benefits of Concrete Polishing
There are many benefits from concrete polishing and it can be modified in many ways to reflect your particular taste. Since its a dry process it allows our customers access to areas on the floor as we are working. HEPA vacuums eliminate most airborne dust particles which allows us to work while you continue to operate. Concrete polishing is highly cost competitive compared to alternative flooring systems such as epoxy flooring and many more. It is also a natural green product, and is installed using an earth friendly green process.
What We Do / services

Concrete Polishing
Nationwide installers of commercial, retail, and industrial polishing systems

Floor Coatings
Nationwide installer of several types of coatings to fit the needs of the customer.

Seamless Flooring
Decorative epoxy and urethane full-chip systems with the ability to formulate specially chip color combinations

Surface Preparation
Grinding, shop blasting, and milling to suit the end result of the concrete surface

Safety Striping
Ability to install to customer specification on any size line

Concrete Repair
Rapid restore, 10-minute cure times to polyurea joint filler

Concrete Maintenance
Maintain the shiny install with floor scrubbers and propane burnisher
Request an Estimate Today
It's quick and easy with our online form! Click the button below to get started today!
Get a Quote
Floor Coatings
TJB Industries, Installs a wide range of High Performance Coatings, from thin mill Epoxy's and Urethane's to chemical resistant coatings. Cracking, pitting and unleveled floors are certain signs that your concrete is aging, Epoxy and Urethane coatings protect your concrete and prevents deterioration. Chemical resistant coatings are available for the most demanding environments, able to withstand jet fuel to 95% sulfuric acid and everything in between. Coating a concrete floor with a textured slip resistant coating will further enhance your floor's safety. TJB Industries can repair your existing or new construction project to provide a safe and clean facility, whether you need corrosion resistance, superior appearance or anti-skid finish call TJB Industries and be amazed at the difference!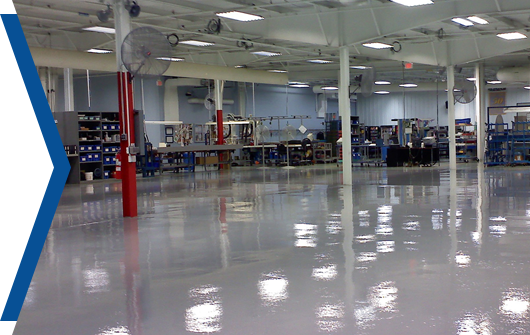 What Our Customers Say
TJB Industries did the floor grinding of our shop area of about 18,000 sq feet. The grinding was well worth the price as it leveled out the high spots making forklift travel less bumpy, made it much easier to sweep and now has some reflective qualities making it a brighter work area. They came in, did the job well and left with everything cleaned up. I would go with TJB Industries again in the future when I have another floor to grind.
Tim Finney
Invecast Corporation
Our company would like to thank you for the work you performed over the Christmas holiday in 2007. The amount of work to be performed and the quality of work was most impressive. You were able to transform our floors from a dingy depressing look to a clean and exciting appearance. It has been 3 months since the work has been done and the floors still look as good as the day they were finished. I am looking forward to doing more business with you in the future.
Ken Bertrand
Maintenance Manager
Fischer Automotive Systems
I have been in business for myself for over 35 years and during that time have built a number of buildings both for wholesale and retail businesses. We recently opened the Cigar Factory Outlet in Troy on Big Beaver just east of Rochester Road. As part of the project we had to make a decision about what to do with a badly soiled cement floor in the area that was about to become our humidor and lounge. After much consideration we elected an epoxy floor. We took bids from a number of suppliers and decided to go with Tom Boyda from TJB Industries. This decision was not made on price alone (even though TJB was the least expensive bid) but rather on the professionalism and expertise that Tom exhibited to us. To make a long story short, we could not have made a better decision! Our floor looks absolutely great and working with Tom and his people was one of the best experiences I have ever had with a contractor! If you are having your floor done, I strongly recommend TJB….You Will Not Be Disappointed! If you are in the area, I invite you to stop by and see for yourself.
Dan Jenuwine
President
Cigar Factory Outlet
TJB Industries did our floors at our Camp Bow Wow Doggy Daycare and Boarding facility in Clarkston, MI. We had a hard time deciding how to finish our floor because they get punished day in and day out. There are usually 30 to 40 dogs running around on them and once in a while someone has an accident on the floor that needs to be cleaned up. We are continually clean the floors with mops and auto-scrubbers several times a day. After almost two years, our floor still looks shiny and new. We are extremely happy with the job TJB did for us as well as the customer service they provide.
Tom Boyda with TJB Industries and the guys were very professional and clean when they polished my large Retail store in Antigo, Wi. The store was previously a K-mart store with V.C.T. tile on it. They safely and cleanly removed the glue and polished the floor to a mirror-like finish while other trades worked along side of them with no complaints from the other workers. When the retail officials walked through the store at grand opening, they commented that this was "one of the nicest floors that they had ever seen." Great job T.J.B!
Tony Balthazor
Northcentral Construction Co. Inc.
A Look at What We Do Nationwide
Airplane Hangers
Church
Concrete Polishing
Floor Coatings
Industrial
Retail
Industrial
Florida
Retail
Indianapolis, IN
Retail
Chicago, IL
Church
Michigan
Floor Coatings
Tennessee
Floor Coatings
Ohio
Floor Coatings
Detroit, MI
Concrete Polishing
Minnesota
Concrete Polishing
Miami, FL
Airplane Hangers
Alabama
Concrete Polishing
South Carolina
Retail
New York
Concrete Polishing
Georgia
Concrete Polishing
Pennsylvania
Concrete Polishing
North Carolina